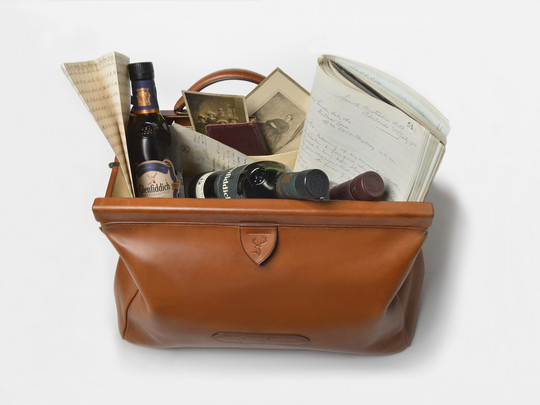 This Christmas laContrie is partnering with venerable whisky distillery Glenfiddich to create a limited edition of handmade leather bags.
Edwina de Charette, founder of laContrie, elaborates :
"I view collaborations as a stimulating challenge, an opportunity to learn from others and share laContrie's craftsmanship and savoir-faire.
Who could say no to the Scottish highlands, whisky's birthplace or to Glenfiddich, a historic family-owned company ?
This is a marriage of craft and luxury, the finest materials and ingredients don't disappoint.
Reproducing an early 20th century bag represented a real obstacle. laContrie applied all its know-how to make a bag identical to the one carried by Glenfiddich's founder, Charles Gordon.
An aesthetic challenge as much of a technical one, we employed various methods to achieve the desired result. The leather sheathing, stitching and patina were all done by hand in our workshop. Each bag represents 40 to 50 hours of work. The materials chosen are smooth calfskin for the exterior and kidskin for the lining."