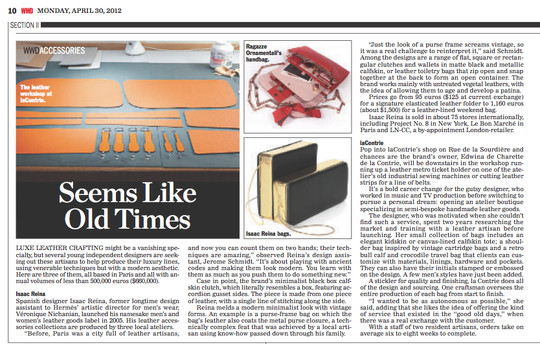 "Pop into laContrie's shop on Rue de la Sourdière and chances are the brand's owner, Edwina de Charette de la Contrie, will be downstairs in the workshop running up a leather metro ticket holder on one of the atelier's old industrial sewing machines or cutting leather strips for a line of belts.
It's a bold career change for the gutsy designer, who worked in music and TV production before switching to pursue a personal dream: opening an atelier boutique specializing in bespoke handmade leather goods.
The designer, who was motivated when she couldn't find such a service, spent two years researching the market and training with a leather artisan before launching. Her small collection of bags includes an elegant kidskin or canvas-lined calfskin tote; a shoul- der bag inspired by vintage cartridge bags and a retro bull calf and crocodile travel bag that clients can cus- tomize with materials, linings, hardware and pockets. They can also have their initials stamped or embossed on the design. A few men's styles have just been added.
A stickler for quality and finishing, laContrie does all of the design and sourcing. One craftsman oversees the entire production of each bag from start to finish.
"I wanted to be as autonomous as possible," she said, adding that she likes the idea of offering the kind of service that existed in the "good old days," when there was a real exchange with the customer.
With a staff of two resident artisans, orders take on average six to eight weeks to complete.
Prices for bags go from 1,290 euros ($1,700) for an evening clutch up to 30,000 euros ($39,600) for models in exotic skins. Besides in its own shop, the brand's small leather range is also sold at Colette."
by Katya Foreman